Overview of Alliance Battle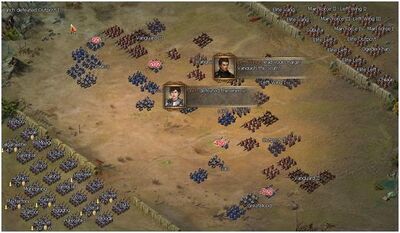 Group Assembling Alliance battle is the battle over plantation. Only the commander can launch an alliance battle before 07:00 P.M. (Server Time). Every night, the engaged Alliances have 20 minutes to assemble alliance members. There is a callout box of Alliance Battle in city view. Click it to check the assembling time or enter the battle view. Note that the new members could only join the Alliance battle two days after the initiation. In alliance battle, the member limit for each Alliance is 50. The battle starts when the countdown is over. The gamers engaged in the battle can achieve 5 winning streaks at the most. The Alliance members that join the battle can be rewarded with bountiful Alliance contribution.
Boost and Draft In Alliance battles, gamers can boost their troops with battle points or Gold. Boost might fail at certain odds, but once it succeeds, Hit or Shield will be increased. Note that the more bonuses, the lower the success rate of boost. You can also draft soldiers before the battle begins.
Alliance Plantation Harvest The winning Alliance can harvest from the plantation, 5 times every day. The Grains harvested can be double at certain odds. The Grains production of plantation is refreshed at 05:00 a.m. (server time). The occupation of plantation will end automatically in winter. Alliances have to launch another battle to seize it. Now take your bravest heroes and join the Alliance battle! Don't worry about being outnumbered as the number of soldiers is not everything when it comes to winning a Alliance battle.
Alliance Farms Winners of Alliance Battles may collect Grain from the Alliance Farms as shown on the World Map. Grain may be collected 6 times a day with a chance of collecting double the standard amount each time. Alliance Farms are automatically abandoned in winter and will need to be retaken through Alliance Battles.
Battle Boosts During the team planning period before the beginning of a Alliance Battle, players may use either Battle Points or Gold (VIP 5 or Above) to activate Battle Boosts. If successfully activated, Battle Boosts can raise your attack and defense ratings. Once you have successfully boosted your stats 5 times you have a chance of obtaining a unique skill. The chances of a Battle Boost being successful decreases as your stats are boosted higher.
Community content is available under
CC-BY-SA
unless otherwise noted.