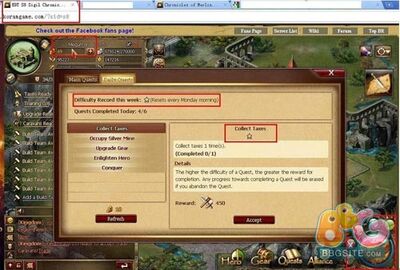 So you're looking to get that Enchanted Item in Chronicles of Merlin? Well the only way to get it is through Daily Quests. Daily quest's difficulty resets at 00:00am every Monday morning. And the Daily Quests limits reset daily at 5:00a.m. Server Time. Once a player completes a Daily Quest of 10 Stars they will be able to obtain a powerful Enchanted Item.
Timeframe
Dec.12 12:01a.m. – Dec.18 11:59p.m. Server Time
Servers
S1-S14
Rewards
Any player who finds a Daily Quest with 10 Stars will receive 400 Gold plus 200,000 Silver!
Any player who finds a Daily Quest with 9 Stars will receive 200 Gold plus 200,000 Silver!
How to Enter
Take a screenshot when you have found a Daily Quest with 9 or 10 stars. Then simply upload the screen shot in a reply to this event thread. All screen shots must include the server address, your character name, a screen shot of the daily quest, and the server time in the lower right hand corner.
Notes:
Only one reward per player. Meaning a player can win 1 reward for the 9 Stars quest or 1 reward for the 10 stars quest, but not both.
Players who cheat will be banned.
All Rewards will be delivered within 3 days after event is over.
If any of these items in the screen shot are unclear or missing then a reward will not be issued.
Set goals for each day, for example, reach 4 stars by Dec 12th, 5 on the 13th, so you have enough time to reach 10 before Dec 18th, this will help save you Gold.
Take screen shot first, then upload it to a file host site, then paste the link to event thread.http://forum.koramgame.com/thread-45785-1-1.html
Community content is available under
CC-BY-SA
unless otherwise noted.