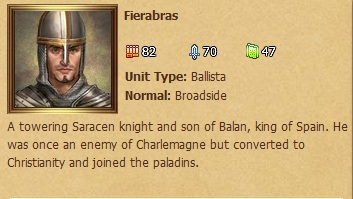 Fierabras is a Charlemagne kingdom prestige hero and requires 20,000 prestige to unlock.
Unit Type - Ballista. Attack - Broadside: Deal normal damage to a column of enemies
Fierabras is a fantastic siege hero with high bravery, moderately high tactics and acceptable magic. His attack pattern and self-reliance (when compared to gambit heroes) make him a long lasting hero. Most Charlemagne players will be using him for the majority of their time.
It's wise to use heroes with varying attack types (normal, gambit, spell) and if you choose to use only 1 siege hero in combination with gambit and spell heroes, Fierabras is likely to be your best choice.
Community content is available under
CC-BY-SA
unless otherwise noted.