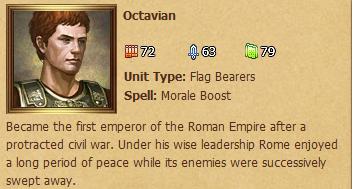 Octavian is a Caesar kingdom prestige hero and requires 43,000 prestige to unlock.
Unit Type - Flag Bearers: Raise friendly troop morale while lowering hostile troop morale. Spell - Morale Boost: Add 34 morale to friendly gambit heroes and take 5 morale from hostile gambit heroes.
Octavian is the equivilent of King Arthur's Flag Bearer Sir Gawain and Charlemagne's Flag Bearer Roland.
Like the other kingdom's Flag Bearers, Octavian is slightly better than William and Joan of Arc.
Octavian gains 30 units per level
Community content is available under
CC-BY-SA
unless otherwise noted.