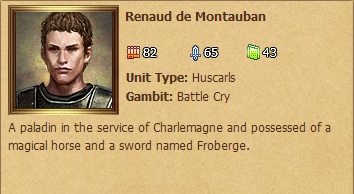 Renaud is a Charlemagne kingdom prestige hero and requires 9,000 prestige to unlock.
Unit Type - Huscarls: Average chance to block. Gambit - Battle Cry: Deal gambit damage to a single target and lower all enemy morale by up to 30.
Initial status is 82 bravery, 65 tactics and 43 magic and has 360 units.
Renaud de Montauban is a decent early game hero because of his high bravery and the ease of obtaining a weapon and leveling it. His gambit, being a single target attack, is lacking and when paired with his Tactics stat it will fall short when compared to gambit heroes like Alfred the Great and Attila the Hun.
Community content is available under
CC-BY-SA
unless otherwise noted.