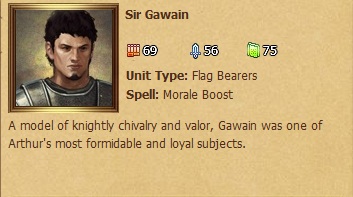 Sir Gawain is a King Arthur prestige hero and requires 43,000 prestige to unlock.
Unit Type - Flag Bearers: Generate morale for your team and reduce enemy teams morale each turn
Spell - Morale Boost: Generate 34 morale for your gambit heroes while taking away 5 morale from enemy gambit heroes
Sir Gawain is a support hero, useful in early and mid game but finally recommended to be replaced in late game by Columbus. Sir Gawain is the King Arthur's flag bearer version such as Roland or Octavian.
You won't need any Enchanted Items for him. It is important to get good defensive gears for him and to enlight all his stats because he is very fragile, especially in late game.
Community content is available under
CC-BY-SA
unless otherwise noted.