The Tower of Trials is a very important building. It is where you train and level up your heroes. This structure is one of the most costly structures in terms of silver and build time. You get a 2nd Tower of Trials at level 85 so that you can train your heroes faster. However the 2nd Tower of Trials is more expensive and takes more time to upgrade than the first.
You can choose 1 of 4 training durations for varying costs as seen in the picture below.
The Tower of Trials upgrade level determines the amount of experience granted per training session.
It is wise to combine a long training session (24 or 72 hours) with more rewarding training modes to make the most use of time and gold.
Experience
Edit
In the Tower of Trials you can add experience to your heroes for Battle Points (BP), Experience Gems, or Gold. Each time you add experience it will add a cooldown time (CD) of 10 minutes. The CD timer turns red at 30:01 minutes, therefore, you can add experience 4 times before you hit max CD and have to wait for the time to run out.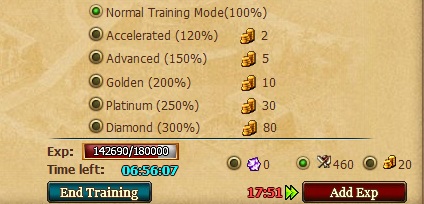 The Tower of Trials level determines the amount of experience granted with each "Add Exp". The City Hall level determines the battle point cost of "Add Exp" and "Regular Enlightenment".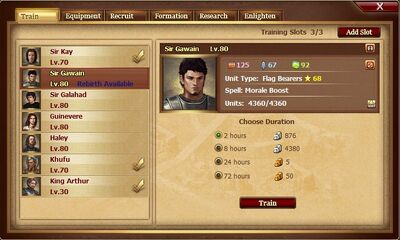 As seen in this picture, there is now a Rebirth button available from the "Train" tab in addition to the "Enlighten" tab. There is also a notification when a hero is eligible to be reborn.
Training Slots
Edit
You start with 1 training slot upon creating your account. You can add additional training slots for the following cost:
2nd - 50g
3rd - 100g
4th - 200g
5th - 500g
6th - 1,000g
It is recommended not to purchase a 6th slot unless you have the inclination to buy large amounts of gold. Most players end up stopping after their 4th. Training slots are very valuable as you'll eventually have 5 heroes in your formation and thus 5 heroes to train.
When you attack and defeat a player, you have a chance to raze a building. This means a building of the player you defeated will be downgraded by one level. When you raze an opponents building, you get double the prestige as a reward.
This building gets razed the most, but don't worry, each time you lose a building level, you are refunded the cost. The only downside is the building time.
Community content is available under
CC-BY-SA
unless otherwise noted.